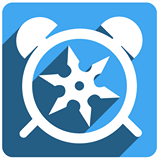 Are you tired of telling your kids to stop playing games on their mobile devices and do something useful instead?  If yes, then Exelerata Labs has an app for you. Meet Screentime Ninja! 
With Screentime Ninja your kids will have to earn play time by solving age-appropriate mathematical problems. If they cannot solve a problem, Screentime Ninja will teach them how. Each kid has an individual profile configured by the parent.
As a parent you define how much play time each kid earns by solving a problem, how much play time needs to be earned before it can be redeemed, when and for how long each kid can play in a given day.
In its current form the app helps kids master basic arithmetic operations: addition, subtraction, division and multiplication. The team is working on adding tasks that cover other areas of math curriculum as well as series of advanced, competition-level math problems for kids of different ages. Each type of problems is accompanied by video mini-lessons that explain the concept and walk kids through a similar problem.